At this time we are unable to service emails to Outlook, Hotmail, or other Microsoft-provided email addresses. If you are using one of these providers you will be unable to /register for an account or receive password reset emails.

If your account uses one of these providers, you can use the command /changeemail in game to change to another email account. If you did not receive your registration email, you may acquire it by resetting your password on the website once you have changed to a non-Microsoft email.

Want to get our most recent announcements - and XP codes - in your email?
Shotbow
Updates
Network Updates
Just yesterday, we rolled out a special new event for Easter: an Easter Egg Hunt! The Easter bunny needs your help finding all of his eggs, and if you find all of them, you could get a
lot
of XP.
In addition, we have a ton of new Easter cosmetics for you to enjoy, including a limited-edition Easter Bunny Pet and Easter icons.
Learn all about the Easter event
here
!
Also this month, the Film Crew reached out to the community for clips to fill the upcoming Shotbow Community Highlight Video. More info can be found on
the thread
.
Lobby Updates
The wrong respawn spot in lobby has been updated: go die in the void and take a look!
Annihilation Updates
This month, the Annihilation tournament kicked off, and there were also a ton of new bugfixes for Annihilation, which are all listed here. All issues resolved in Annihilation will be rolled live within 2 weeks.
Fixed issue where you could block ores and the end portal using hunter traps.
Fixed issue where you could craft Soulbound items using other Soulbound items.
Resolved issue where the BossBuff boots of an acrobat will still be taking damage after getting fall damage.
Resolved issues where it was possible to duplicate a scorpio hook using a hopper.
MineZ Updates
This month in MineZ, halowars91 hosted a Saint Patrick's Day head hunt. More info can be found
here
!
In addition, the MineZ team rolled more map changes and bug fixes. You can see a full changelog
here
.
Slaughter Updates
Two new maps have been added to Slaughter! You can view their threads in the forums and also play them in game:
Blizzard
and
Castle
.
Additionally, a few issues were fixed with 1.7 PvP on Slaughter.
Statistics
SMASH Rankings
The 2018 Winter season has just finished, and the results are in:
1st - _BrightDarkness_ -

10,000 XP

2nd - acoo398 -

7,500 XP

3rd - JirenX -

5,000 XP
Congratulations to all who won prizes. The SMASH Spring season starts tomorrow, so be sure to work your way up the ELO ladder to victory!
Mine Theft Auto
MTA Leaderboards for March 2018
Combat:
1st - LegitNube KDR: 76:3 (25.33)
2nd - AVAchqn KDR: 70:3 (23.33)
3rd - Senkuu KDR: 20:1 (20.0)
Arrests:
1st - Muhyo_OC Arrests: 103.0
2nd - _hellogoodbye Arrests: 71.0
3rd - Kumin_0507 Arrests: 40.0
Experience Gained:
1st - Nanacoro Experience gained: 72796.0
2nd - Muhyo_OC Experience gained: 70618.0
3rd - _hellogoodbye Experience gained: 36855.0
Minigames Won:
1st - Nanacoro Minigames won: 71.0
2nd - WarpShadow Minigames won: 56.0
3rd - Geromo1561 Minigames won: 53.0
Network in General
Staff updates:
ACrispyTortilla joined the SMASH Mini Admin team
dLeMoNb and SHIVAS1 joined the Annihilation Mini Admin team
Other statistics:
A total of 92,573,046 XP was earned by players this month
There were 1,613 players banned in the last month
This month we achieved a peak playercount of 741 on March 24
Player Peak
This month, we are still up really high and close to 1,000 players online at one time. However, if we can hit over 1,000 players online at one time during the next month, we will do a Platinum rank giveaway on the Twitter!
What can I do?
Play on Shotbow, invite your friends, and invite their friends! Make friends and invite them to Shotbow! Spread the word about our amazing games, and in return we'll work as hard as we can to make your experience the best it can possibly be.
I'm your host, Mistri. Thanks for flying Shotbow!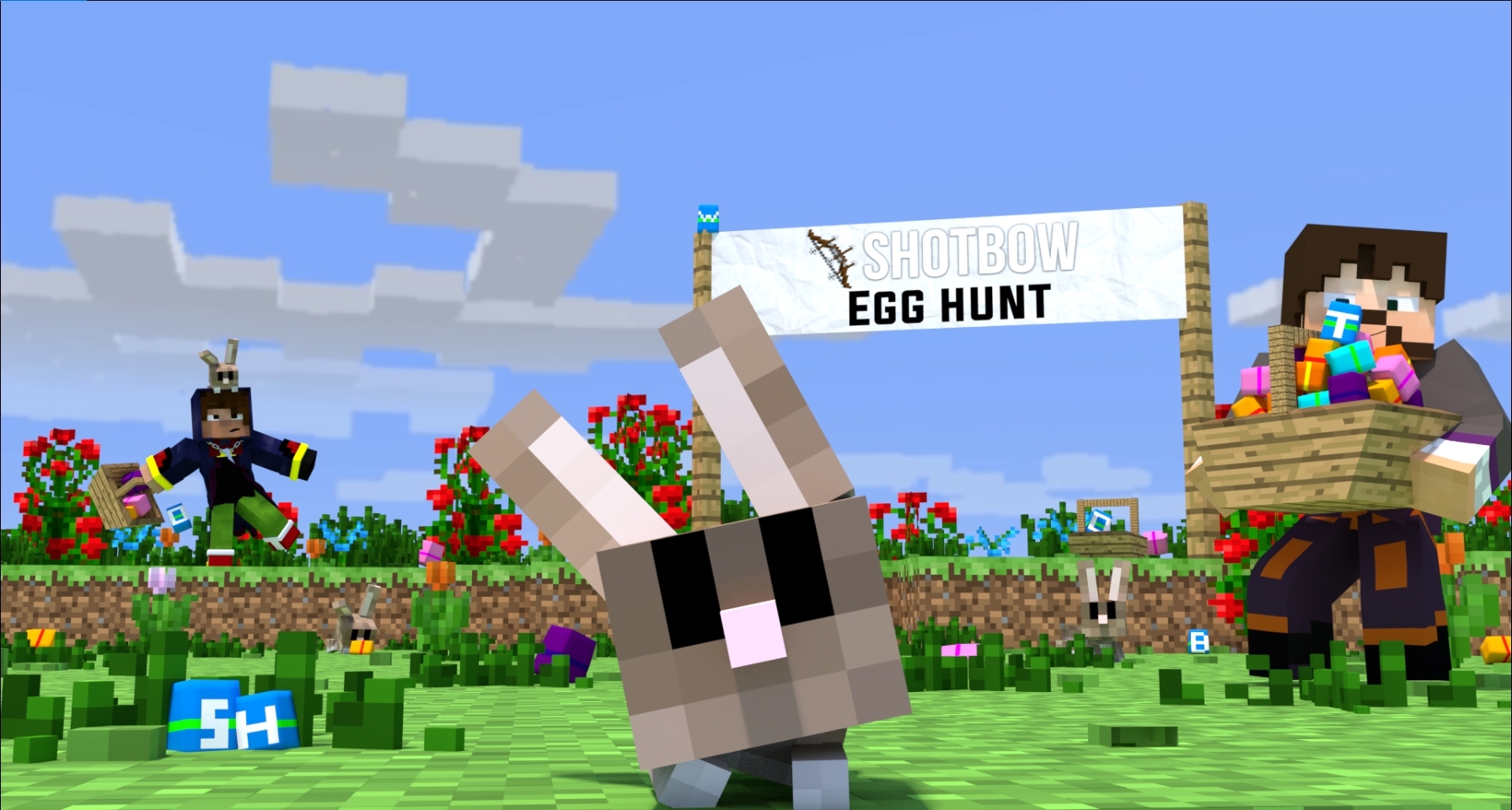 Good afternoon everyone!
Today I'm here to announce the Shotbow Easter Event! This event consists out of several cosmetics and an ingame event!
The easter bunny needs your help! He lost all his big green easter eggs! He's inside the lobby and he's very sad and angry! He wants his eggs back. Can you help him? I recommend giving him a visit in the lobby! I heard he's somewhere near the Ghostcraft sign?
After visiting this poor bunny, I recommend searching for this egg! The bunny will reward you gratefully! You can find those eggs on several Shotbowservers! Lobby, Smash and 2 other games!
If you find all the eggs, you will get a bonus amount of XP! Trust me, it's worth
Oh and if you are the first person to find all eggs, post a screenshot of the output from /easter on this thread! The first person who succesfully found all eggs will receive a free Gold Rank on Shotbow! That's cool right?
There's a new Easter Bunny Pet! And it's obviously really cute. Actually, it's not just one pet! When you right click this pet, the bunny will start an Easter celebration ceremony with some friends! And at the end of this ceremony, it will be raining eggs! Curious? Take a look ingame or buy it on
the Shotbow Shop!
Why use a particle trail, when you can put an easter egg out of particles on your head? They come in 9 different types and they're totally awesome! Next to those eggs we also created a cherry blossom icon! It's fabulicious! Want to get it? Take a look at
the Shotbow Shop!
I think that's it for now! A big shoutout to all the staff who helped making the cosmetics, the PR, the translators and those I forgot!
Happy easter to all players and enjoy!
- Jeroen
Egg Hunt Update:
The Egg Hunt has temporarily been disabled due to issues. We hope to bring it back online soon.
Today I am going to be introducing an exciting new addition to the Shotbow YouTube channel - community highlights!
Have you ever experienced a hilarious Annihilation moment you wanted to share with the world? Or perhaps you endured a very close call in a MineZ fight that resulted in an epic victory? Send your clips our way and we will upload your highlights to the Shotbow YouTube channel!
Community highlights are essentially a montage of interesting clips submitted by you - the community! We are looking for any kind of Shotbow video clip ranging from funny moments to intense action. Of course, with great things come fun requirements and guidelines!
Submission Rules and Guidelines
1. The clip must be something you recorded yourself.
2.The clip must not contain any copyrighted music or material.
3. In order to keep things simple, the clip must be uploaded to YouTube.
4. Preferably, your clip should be somewhat recent (not over a year old!). We may still accept old clips as long as they are interesting/relevant.
5. Your clip must be a decent quality. If the quality of the clip is very poor (to the point where it is hardly watchable), it may not be accepted. We recommend clips be at least 30fps + 480p. If you are unsure about the quality of the clip you have, submit it anyway!
6. Your clip must be reasonably appropriate. If we feel your clip is inappropriate (contains extremely vulgar language, images, etc.) or contains anything that goes against our rules, we will not use it. Again, if you are unsure about your clip, send it in anyway!
7. We prefer that you do not edit your own clips. Our team will handle that!
8. We prefer that you do not submit long clips. Your clip should be around 30 seconds to a minute. If you submit a longer clip (1-3 minutes), please include timestamps of when the highlight happens. If your clip is over 5 minutes long and you don't include any timestamps, we will not use your clip.
I read all the guidelines, how do I submit my clip(s)?
Please fill out this form to submit your clip! Please do not submit a clip without reading the guidelines listed above. If you wish to submit more than 1 clip, please fill out separate forms for them unless the clips are related.
https://goo.gl/forms/qjWgOu9Mucjuao4d2
Got any questions or concerns? Leave a comment below!
For example's sake, here is a very short highlight of my own! Have fun everyone!