At this time we are unable to service emails to Outlook, Hotmail, or other Microsoft-provided email addresses. If you are using one of these providers you will be unable to /register for an account or receive password reset emails.

If your account uses one of these providers, you can use the command /changeemail in game to change to another email account. If you did not receive your registration email, you may acquire it by resetting your password on the website once you have changed to a non-Microsoft email.

Want to get our most recent announcements - and XP codes - in your email?
Shotbow
Today I am going to be introducing an exciting new addition to the Shotbow YouTube channel - community highlights!
Have you ever experienced a hilarious Annihilation moment you wanted to share with the world? Or perhaps you endured a very close call in a MineZ fight that resulted in an epic victory? Send your clips our way and we will upload your highlights to the Shotbow YouTube channel!
Community highlights are essentially a montage of interesting clips submitted by you - the community! We are looking for any kind of Shotbow video clip ranging from funny moments to intense action. Of course, with great things come fun requirements and guidelines!
Submission Rules and Guidelines
1. The clip must be something you recorded yourself.
2.The clip must not contain any copyrighted music or material.
3. In order to keep things simple, the clip must be uploaded to YouTube.
4. Preferably, your clip should be somewhat recent (not over a year old!). We may still accept old clips as long as they are interesting/relevant.
5. Your clip must be a decent quality. If the quality of the clip is very poor (to the point where it is hardly watchable), it may not be accepted. We recommend clips be at least 30fps + 480p. If you are unsure about the quality of the clip you have, submit it anyway!
6. Your clip must be reasonably appropriate. If we feel your clip is inappropriate (contains extremely vulgar language, images, etc.) or contains anything that goes against our rules, we will not use it. Again, if you are unsure about your clip, send it in anyway!
7. We prefer that you do not edit your own clips. Our team will handle that!
8. We prefer that you do not submit long clips. Your clip should be around 30 seconds to a minute. If you submit a longer clip (1-3 minutes), please include timestamps of when the highlight happens. If your clip is over 5 minutes long and you don't include any timestamps, we will not use your clip.
I read all the guidelines, how do I submit my clip(s)?
Please fill out this form to submit your clip! Please do not submit a clip without reading the guidelines listed above. If you wish to submit more than 1 clip, please fill out separate forms for them unless the clips are related.
https://goo.gl/forms/qjWgOu9Mucjuao4d2
Got any questions or concerns? Leave a comment below!
For example's sake, here is a very short highlight of my own! Have fun everyone!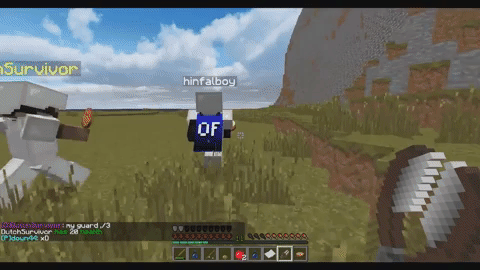 Top of the morning to you!
You've heard the old saying, right? That there's a pot of gold at the end of the rainbow. Well, we've got a problem. We had intended on putting one big pot of gold at the end of our rainbow, but our pesky patent pending build team leprechaun managed to lose all his gold.
He thinks that he misplaced 20 pots of gold throughout the world, and he wants you to help him! He can't seem to recall any details about where they are, but he's afraid of going in caves, and knows he didn't go there!
Do you have enough luck to rush through the map to find our lost gold?
Okay, translation please:
Here's the scoop. There are 20 pots of gold hidden throughout the world.

They look like this

(Click that).
The heads could be hidden anywhere at any location marked on the MineZ map. This excludes any dungeons and caves, but may include places you must parkour into or upto. They will not be in the wild, and can only be found at locations.
You have until Sunday, the 18th of March to find all 20 heads. The hunt will be live as of 3/10/2018. You'll know it's live if the MineZ Lobby has two pots of gold.
So, what's at the end of my Rainbow?
The first person to submit
an imgur album of themselves in the third person point of view with all twenty heads in view
will recieve:
1 Free Silver Rank
1 Set of Golden Leprechaun Gear
1 Set of Shamrock Green Armor
1 Grass Blade
1 Special player sign in an Origins Location
1 Pot of Gold Event Head
Every other player to submit their album by the 18th will receive:
1 Pot of Gold Event Head
1 Set of Shamrock Green Armor
1 Leprechaun's Fool Gold.
So, best of luck to you! May you find the hidden gold, and claim your prize! Get hunting!
~
Halo
Hi Everyone!
It's me. Your friendly neighborhood loremaster and builder,
Halo
. Today I'm happy to announce the re-opening of build applications for Shotbow.
Before you go straight to the application, I thought I'd lay out some details and what you'd do for the network.
About us:
As our name implies, we're the team behind new lobbies, fun additions to MineZ, Smash, Anni, and other gamemodes. We work closely with the other teams to create their vision. In our freetime, when we're not working on projects or playing games, you can probably find us on our dev server creating fun ideas for the dungeons of tomorrow or the terrain for the battlefield of Anni. If you're more abstract, you may even build a
R
a
i
n
b
o
w
Train(Which Exists).
So what should you prepare?
I'd recommend constructing a build portfolio
first, and foremost. A build portfolio is simply an album of images(typically imgur) that show off your past builds. I will not accept any portfolios in texture packs that are not default. All our modes are built with the default textures in mind, so it's important not to deviate.
This time around I'm also expanding our team to welcome writers. If you like to write lore, and have an interest in this, I ask that you provide us with some samples of pieces you've written before. My favorite thing is constructing stories, and I'd love to welcome more people into the Lore department.
Below is the application
.(Hard to Miss. Click apply here). Please read it carefully.
You may only apply once
. I will begin responding to applications in one week. Due to the large volume of applications that we receive for build team, only people that are accepted will receive a forum notification.
Apply Here!
Thank you for reading, and I hope to see you apply! Best of Luck.
Love, Halo